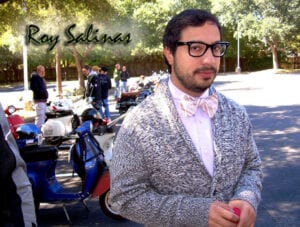 This week in Dallas, a rare legal success for the scooter / motorcycle community took place due to the diligent work of Dallas County prosecutors, Josh Healy and Trey Stock, when they were successful in convicting a drunk driver in the death of popular scooterist Roy Salinas.
Roy Salinas was a carefree man that brought immense enjoyment to his Oak Cliff community and the Dallas scooter crowd. Tim Parks was an admitted alcoholic who hadn't possessed a valid license to drive since a DWI conviction 17-years ago. These two men had lives that dramatically changed on the evening of June 28, 2011.
Salinas, 35, was noted for his love of bow ties and was actively involved with several groups ranging from Bike Friendly Oak Cliff to the Oak Cliff Running Club to the Get Bent scooter club. He was a Senior Vice President at Citigroup and acted as Marketing Information Management Director.
On the evening of June 28, he was part of a large group of scooterists that had been invited to a screening of the Tom Hanks and Julia Roberts film, "Larry Crowne." The Angelika at Mockingbird Station strove to provide a fun evening for the riders and invited them to park their scooters on the upper plaza in front of the theater which provided a great backdrop for photo ops. Scooterists had been excited about attending the screening for a variety of reasons but it boiled down to camaraderie and frivolity – for which the Dallas scooter crowd is well known.
A little after 11:00 p.m., texts began arriving with alerts that something had happened to Salinas after the screening while he was riding near McKinney Avenue and Cole Avenue in Uptown.
The first thoughts after the texts were that perhaps Salinas had a problem navigating the trolley tracks that run in that area. Most inner city riders that have traveled along those roads in Uptown are aware of the tracks; take a corner a little too fast and the back wheel can start to slide from underneath you as it hits the steel track or, for rides with narrower and smaller front ends, they can too easily get caught in a groove and flip a rider.
The next day the somber news came through that Salinas had, in fact, died from his injuries after being struck by an alleged drunk driver who had been traveling the wrong way on a one-way street.
"Roy was treated by emergency responders at the scene," said prosecutor Josh Healy. "He died after 2:00 a.m. as a result of blunt force trauma, internal injuries, and laceration of the liver."
Tim Parks, 56, is a classic "used to be": He used to be a manager at the Ritz-Carlton in Philadelphia and he used to be a licensed driver. On June 28 he decided to start drinking in mid-afternoon under the pretense of an early celebration for his birthday in two days time.
He borrowed his employer's car and went to pick up a friend by the name of Jeffrey Dickey. Later, while en route to drop off his friend, Parks turned the wrong way on Cole Avenue, which is a one-way street, and drove straight into Salinas.
According to witnesses and testimony, Parks showed little regard to Salinas and was only concerned with trying to talk his friend Dickey into admitting to being the driver of the car. Dickey declined to take the blame and later Parks's blood alcohol was measured at 0.22 which is almost three times the legal limit.
"I was only able to make it to the first day of the trial and my impression is that the guy is totally self-centered," said Carl "Crashtest" Swick. "What broke up quite a few of the people in the court was the passenger's testimony (Jeffrey Dickey). After Roy was hit by the Mercedes, Parks moved the car out of the roadway and while Roy was moaning and trying to get up, Parks was busy trying to talk the passenger into saying that he was driving. He never asked about Roy, and did not appear shaken up at all during the videotaped field sobriety test – which he failed miserably. An 8-year sentence wasn't nearly enough, but no matter the sentence, it won't bring Roy back. I despise Tim Parks."
Upon conviction by the jury of manslaughter, Parks took the stand before the sentencing phase and had an amazing array of excuses as to why he shouldn't have to serve any time behind bars including:
Though he had a blood alcohol level that was almost three-times the legal limit, he shouldn't be held responsible for the crash.
Claimed he failed the field sobriety test because he didn't have a computer.
Stated to jurors that he didn't know how to spell so he couldn't recite the alphabet.
Had at least two prior DWI's before the wreck that claimed Salinas's life.
Showed no remorse as Salinas was groaning on the pavement and trying to get up.
The jury sentenced Parks to eight years and a $5,000 fine.
"The possible sentence was wide ranging from probation up to 20-years," said prosecutor Healy. "We think it was a fair sentence and satisfied with the judgment and respect the verdict."
The prosecutors confirmed that while Parks was out on bond he had an in-home Breathalyzer device that would randomly prompt him to blow. The highest reading was .06 and, while that was below the legal limit, it was a violation of the terms so his bond was revoked and he was placed back in jail until the trail.
"We do expect Parks to file an appeal but it won't be over-turned," said prosecutor Trey Stock. "He had a good attorney and his attorney did a competent job plus there's the evidence supporting the facts."
When the question was posed to a friend of Roy's on how he felt about the sentence imposed, the reply was passionate and immediate:
"I would say that it is sad that Roy died because this guy (Parks) made a deliberate decision to drive in an unsafe manor: DRUNK," said Louis Giamalva. "And he has no remorse about it. Roy will never have another chance at life."
Another fellow rider, Grant Griffin, also added his opinion on the sentencing after witnessing the majority of the trail:
"The sentence was light. Parks showed a complete lack of remorse for the family and the videos of the field sobriety test were damming. At no time did he ever accept responsibility and that enraged me."
In the aftermath of the trial, prosecutor Stock shared his thoughts on what elements of this case will be most lasting for him:
"The support of Roy's family and friends was extraordinary. He had a number of people in the gallery supporting his family each and every day and the support of his friends will be a lasting memory. Roy was such an active player in the Oak Cliff community, on the scooter scene, and had given back so much during his lifetime."
The Friends of Roy Salinas page was set up on Facebook in his memory and people have been amazingly diligent about keeping everyone updated as the trial proceeded. It should also be considered a valuable resource as the appeal makes its way through the system.