A former Madison High School basketball star won't go to prison for killing a student athlete from a rival Dallas ISD high school.
Johnathan Tramaine Turner received seven years' probation Monday for fatally beating Wilmer-Hutchins High School basketball player Troy Causey Jr. in March 2014, two weeks after Turner helped his team win a state championship.
Turner, 20, pleaded guilty to manslaughter in exchange for deferred adjudication, a type of probation that allows him to avoid formal conviction if he completes it successfully. His attorney says Turner plans to enroll in school, with the hope of playing college basketball now that his case has been resolved.
Causey's mother, Tammy Simpson, blasted the Dallas County district attorney's office Monday for not taking the case to trial.
"This is not justice," she said. "Probation is not justice for my family, and you should not be free."
Dallas County prosecutor Jason Hermus said he offered a plea bargain because uncooperative witnesses made going to trial risky. Probation, he said, at least ensured Turner would be supervised.
High school seniors Causey and Turner lived together, apart from their immediate families, in southeast Oak Cliff. Causey's death exposed the living arrangement and helped uncover a Dallas ISD recruiting scandal in which coaches fabricated student residency documents to get talented athletes to play for their schools. Fifteen Dallas ISD employees resigned or were fired and Madison had to forfeit two state championship basketball titles, including the 2014 trophy.
Turner's attorney, Kobby T. Warren, said that Causey's death was an accident that occurred during a fight between friends. Turner initially told police he punched Causey after they argued over a video game, but evidence showed Causey was beaten while on the ground.
"It was mutual combat — plain and simple — and it just went horribly wrong," Warren said. "He didn't want his friend to die."
Turner, who is 6-7, appeared in front of state District Judge Don Adams wearing a collared shirt and tie. At one point, he turned around to face Causey's family and apologize. "I never meant for it to go down like that … I'm really sorry," he said.
Causey's stepfather rebuffed him, shouting out from the spectators area that Turner should have said that after the beating when he visited Causey's family at the hospital. The judge ordered him to be quiet — or be escorted out.
The exchange was one of several tense moments Monday, including when Causey's mother appeared to have a panic attack waiting for the hearing to begin.
She later sobbed on the witness stand, speaking about how she has suffered from depression, insomnia and hair loss, which has kept her from her real estate work and destroyed the family's finances. She told Turner that her young children can't sleep "because they fear the killers are coming to get them" and she promised him she'd never again be the "trusting, loving, compassionate person I once was."
"Yes, I'm bitter and angry. I have every right to be. I lost my firstborn," said Simpson, who has a pending lawsuit against DISD and the Dallas County Juvenile Department.
Simpson and other family members chastised Turner for initially failing to admit killing Causey and continuing to pose as a family friend in the days after the beating.
"You said you loved Troy," Simpson said, "but you have done nothing to bring his spirit peace."
Staff writers Matthew Haag and Claire Z. Cardona contributed to this report.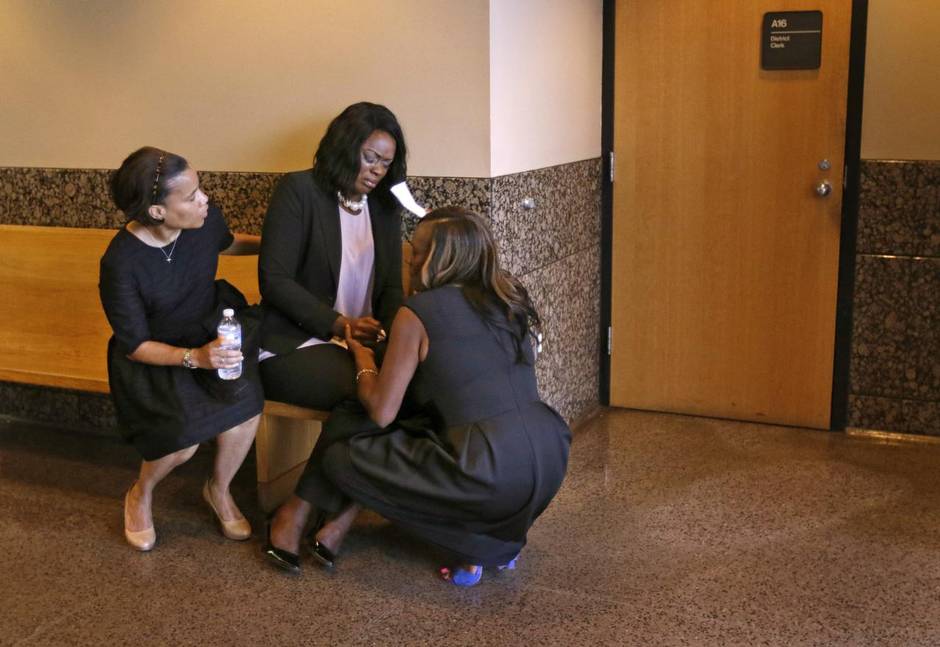 Rose Baca/Staff Photographer
Tammy Simpson, mother of Troy Causey Jr., was consoled by sister Keshia Hawkins (right) and friend LaShey Dawkins outside the courtroom Monday before the hearing. The prosecutor said he offered a plea bargain because of uncooperative witnesses.
IN THE KNOW/3 key points
1. Police originally charged Turner with murder
Dallas police responded to the 6300 block of Cinnamon Oaks Drive on March 23, 2014, and took 18-year-old Causey to the hospital, where he was later pronounced dead.
Witnesses gave varying accounts of what happened, but police eventually arrested Turner — who initially said he only punched Causey in fight over a video game — on a murder charge. Dallas County District Attorney Susan Hawk's predecessor took the case to a grand jury, where the charge was reduced to manslaughter.
2. Turner and Causey were coveted players on their high school basketball teams.
Causey was a 6-6 forward at Wilmer-Hutchins, where his mother said he was recruited to help the school win state. Months away from graduation, Causey was set to sign with Seminole State College in Oklahoma on a basketball scholarship when he was killed.
Turner, a 6-7 power forward, helped Madison High School win the Class 3A state championship two weeks before the slaying in 2014. He was the team's leading rebounder and second-leading scorer for the team, averaging a double-double with 17.1 points and 10.7 rebounds per game.
3. Causey's death prompted an investigation that uncovered a Dallas ISD athletics recruiting scandal.
After Causey's death, his mother told authorities that her son had been recruited to play basketball at Wilmer-Hutchins High School even though he lived in Richardson ISD at the time. That violated the rules. Meanwhile, Turner was living with Causey in southeast Oak Cliff, 9 miles from Madison.
A months-long Dallas ISD investigation found that coaches fabricated student residency documents to get star athletes from other parts of town to play at DISD high schools. The investigation also found that Causey and Turner should not have been eligible to play for those teams. Madison later had to forfeit its state championship titles from 2013 and 2014.
Fifteen DISD athletics employees resigned or were fired, including the director and the coaches of both Madison and Wilmer-Hutchins high schools.